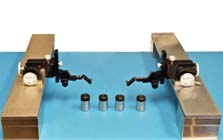 The PS800 comprises the components to perform high accuracy microwave and package-level probing on a very large PCB at a very competitive price. This system can accommodate PCB sizes up to 20" in width with 24" Bridge plate and wider PCB with longer Bridge plate.
Highlights
Completeness: Integrated hardware for high-precision wafer, microwave and PCB probing
Ease of Use: Easy maneuverability for probes and PCB under test
Flexibility: Stackable bridge accommodates large printed circuit boards
Low Cost: Fractional cost of competing solutions
---
PB100 Probe Bridge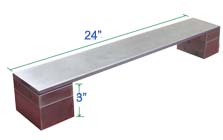 PacketMicro is offering an innovative, flexible and low-cost solution for engineers to probe printed circuit boards (PCB) large and small. By placing any of PacketMicro's positioners (with magnet at the bottom) on top of the bridge, an engineer can reach any point of a PCB to get a firm and accurate measurement.
Specifications
Material: Steel with chrome coating and magnets at bottom of each base block
Base block sizes: 3"x4"x1" and 3"x4"x2" (L, W, H)
Platen size: 24"x4"x1/4" or 30"x4"x1/4" (select one)
Weight: 13.2 Kg/29 lb (with 24" plate) and 14.1 Kg/31 lb (with 30" plate)
Highlights
Built with stackable steel blocks and long plate (24" or 30") to accommodate large printed circuit boards
Can be moved around the test bench to suit the test environment
Flexibility in PCB size, orientation, board and component height
Low Cost: Fractional cost of competing solutions
PS800 Demonstrations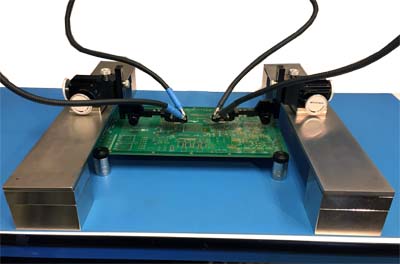 Large PCB probing with PS800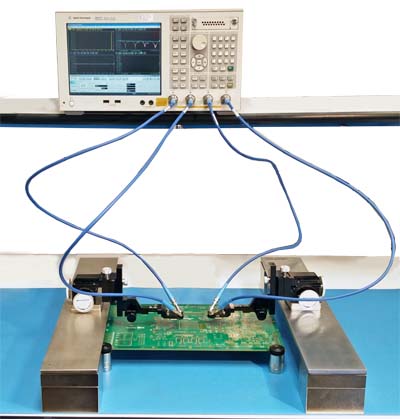 Large PCB probing with PS800 and VNA