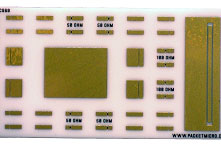 An S-parameter calibration substrate with short, open and load standards for vector network analyzer. 
The substrate supports all Agilent PNA and ENA calibration to remove probe and probe tip contact errors. It allows users to move the measurement reference point all the way to the probe tip. This substrate standard can also be used to set impedance reference for Agilent ENA to within 0.5% accuracy.
For S-Probes with probe pitches larger than 1.0 mm, please contact PacketMicro to order TCS50 substrate, which has long patterns to support wider pitches and costs $400, same as TCS70.
Specifications
Substrate: Polished alumina
Impedance: Open, short, through, 50 Ω, 100 Ω single-ended standard
Contact material: Gold
Accuracy: 50 Ω < 0.5%, 100 Ω < 1%
Pitch Spacing: 0.2 mm to 1.0 mm
Part Number: TCS70
Availability: now
Highlights
Support S-parameter calibration and impedance validation for engineering and manufacturing probing.
Wide pitch range for single-end probes
High accuracy and cost effective solution
Suitable for Agilent, Rohde & Schwarz and Anritsu network analyzers
View PacketMicro TCS70 datasheet.
---
Calibration Substrate Demonstrations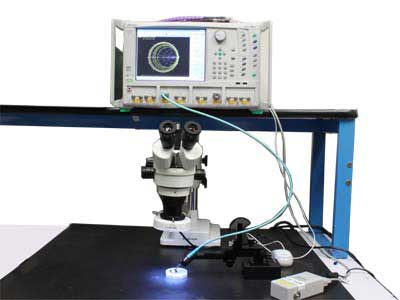 Substrate probing Substrate probe S-Parameter extraction with VNA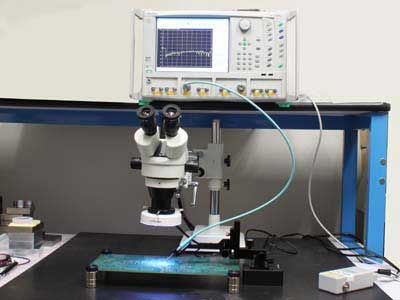 Parameter measurement on high-speed trace with VNA