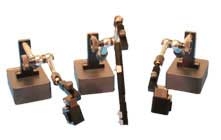 To support large number of oscilloscope and digital microscope users with a versatile holder without the need for xyz-stage, the compact TP50 is designed for ease of use with the highest quality; at the same time, it offers the most competitive price in the industry.
Specifications
Articulated arm: 4 links and 3 joints controlled by a single thumbscrew
Arm Length: 220 mm/8.7 in
Width: 76 mm/3.0 in
Height: 90 mm/3.5 in
Weight: 2,702 grams/5 lb 15.4 oz
Base: Rubber base with magnets at bottom
Small Adapter opening: 2-12 mm
Regular Adapter opening: 4-16 mm
Wide Adapter opening: 7-18 mm
Long Adapter: Holds probes up to 9.5 mm wide
Special Adapter: To hold Tek P7500 probe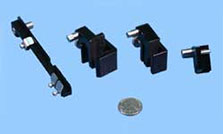 Various adapters of TP50 Easy Positioner
---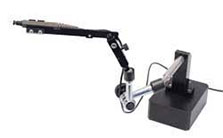 TP50-LA12 with long adapter and Tek probe
---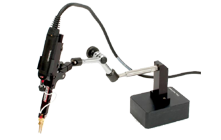 TP50-TA10 with special adapter for
Tek P7500 probe
---
Highlights
Flexible long-reach arm controlled by a single thumbscrew
Probe tip contact pressure adjustment
Revolutionary adapter design can hold different probes with different sizes and shapes
Suitable for lengthy, unmanned testing and detection of hard-to-find glitches
Magnetic rubber base can be used on metal or non-metal bench
Availability: Contact PacketMicro
Multiple Adapters to Hold All Probes and Digital Microscopes
To cover wide range of shape and size of oscilloscope probes and how they are used in probing, PacketMicro offers several probe adapters to cover all of them.
The small adapter UA12 can hold smaller and lighter probes or digital microscopes up to 12 mm in diameter.
The regular adapter UA16 can hold probes or digital microscopes up to 16 mm.
The wide adapter UA18 can hold probes or digital microscopes up to 18 mm.
The pointed long adapter LA12 is for smaller probes while maintaining steady control.
The special adapter TA10 is to hold Tek P7500 probes. 
Part Numbers
TP50-UA12: TP50 with small adapter
TP50-UA16: TP50 with regular adapter
TP50-UA18: TP50 with wide adapter
TP50-LA12: TP50 with long adapter
TP50-TA10: TP50 with special adapter to hold Tek P7500 probe
TP50 Demonstrations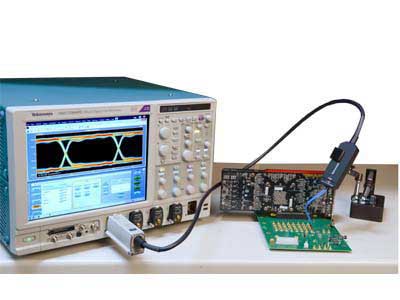 Eye diagram probing using TP50 to hold Tektronix Probe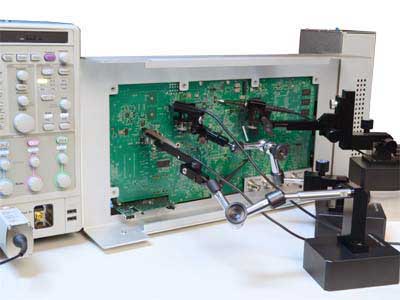 Vertical probing with TP50 model