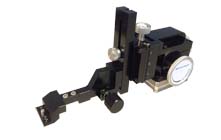 TP250 Precision Positioner combines TP300's high-precision XYZ-stage and magnetic lock at the base, and TP150's long probe arm and θ control. TP250 has high precision required for microwave and wafer probing and the versatility and ease of operation for PCB probing with or without components on it.
TP250 Specifications
XYZ-axis travel: 16 mm with 500 µm/turn (50 TPI) and extra-large x- and y-axis control screws
Height coarse adjustment: 5 mm/step (14 steps)
Resolution: 5 µm
Θ control: ±10° with 2.5°/turn and 0.025° resolution
Length: 228 mm/9 in
Width: 68 mm/2.7 in
Height: 108 mm/4.3 in
Weight: 1190 grams/2 lbs. 10 oz.
Base: Lockable magnetic switch
Probe Adapter: Removable microprobe and D-Probe/S-Probe adapters
Y-Axis Control: Can be ordered for left or right-handed (determined when facing the Y Control)
Availability: Now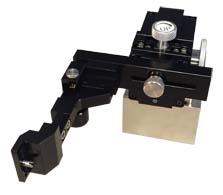 TP250 turns sideway for vertical probing
---
Highlights
Rugged, ergonomic design allows easy hands-free probing.
Flexible and ease of control allows probes to quickly reach test points of interest.
Lockable magnetic base allows easy and quick rearrangement of positioner
Easy probe arm height movement without tool
High-quality material and precision design ensure accurate and repeatable measurements.
TP250 is designed with precise components and built with the highest quality; at the same time, it offers the most competitive price in the industry. It can hold microprobes and PacketMicro's rugged S-Probe and D-Probe with its own adapter. And to support vertical probing, TP250 probe arm can be turned sideways easily without using any tool.
TP250 Demonstrations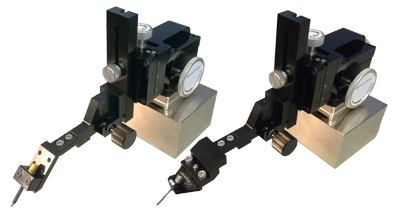 TP250 can hold both microprobes and PacketMicro's S-Probe and D-Probe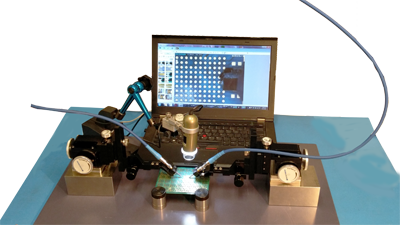 TP250s with FP40 and microscope assist RF Probing