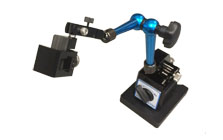 Flex Positioner FP80 is a versatile, low-cost positioner for holding a variety of test probes, especially the widely used oscilloscope probes. Using the articulated arm for coarse positioning first and then controlling the fine adjustments with the XY stage and Z-axis probe force knob, one can make good test measurements with reliable probe contact.
FP80 Specifications
Articulated arm: 3 links and 3 joints controlled by a single thumb knob
Arm Length: 271 mm/10.7 in
XY-stage Adjustment: ± 8 mm
Base with magnetic switch: 65 mm L x 60 mm H x 70 mm W (2.5" L x 2.3" H x 2.8" W)
Base Weight: 1.6 kg/3.5 lbs.
Base Plate Size: 120 mm x 90 mm x 16 mm (4.7" L x 3.5" H x 0.6" W)
Base Plate Weight: 1.2 kg/2.6 lbs.
Universal adapter opening: 4-16 mm
Part Number: FP80
Availability: Now
FP80s side-by-side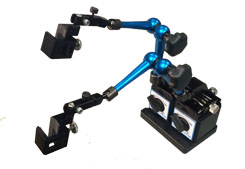 For tight probing area, two FP80's holding Separate probes can placed side-by-side.
---
Highlights
Easy-to-manipulate arm controlled by a single thumbscrew
Independent XY stage for fine adjustments of probe position
Universal adapter with opening up to 16 mm
Long-reach arm (271 mm / 10.7")
Base with on-off magnetic switch for metallic surface
Base plate with rubber bottom for nonmetallic surface
Multiple FP80 units can be attached to a single plate for multiple-arm applications
Magnetic Switch at Base
The magnetic switch at the base can be turned on and off for the ease of moving the FP80.
Steel Base Plate
An additional steel base plate with anti-static rubber bottom allows FP80 to extend the long flexible arm in full length as it stands on a regular nonmetallic bench.
FP80 Demonstrations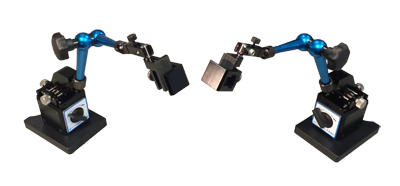 FP80 supports both left- and right-handed (Y-screw, facing user, determines left- or right-handed)