Low-cost, Flexible Positioner for Holding probes and microscopes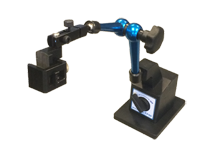 To support large number of oscilloscope and digital microscope users with a versatile flex holder without the need for xyz-stage, the compact FP40 is designed for ease of use with the highest quality; at the same time, it offers the most competitive price in the industry. 
FP40 Specifications
Articulated arm: 3 links and 3 joints controlled by a single thumb knob
Arm Length: 300 mm/12 in
Base: 65 mm L x 60 mm H x 70 mm W (2.5" L x 2.3" H x 2.8" W)
Weight: 1.3 kg/3.2 lbs.
Part Number: FP40-HDM1, FP40-UA16
Availability: Now
Metal Base Plate
Size: 120 mm L x 90 mm H x 10 mm W (4" L x 2.2" H x 2" W)
Weight: 0.8 kg/1.75 lbs.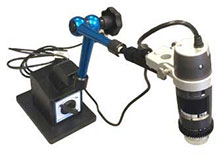 FP40 with HDM1 adapter holding a Dino-Lite microscope
Highlights
Multiple-arm configuration
Articulated arm controlled by a single thumb knob
Various changeable adapters
Long-reach arm (300 mm / 12")
Base with on-off magnetic switch and base plate with rubber bottom for stability
Flex Positioner FP40 is designed as a low-cost positioner to hold solder-type, connector tips, and single-ended probes. With HDM1 adapter, it can hold USB microscopes from Dino-Lite. On a metallic surface, the switchable magnetic base can be switched on and off to keep the positioner firmly to its position or be moved or lifted to a new location with ease. On regular work bench, the steel base plate with anti-static rubber at the bottom can hold the positioner steadily.
FP40 Flex Positioner Demonstrations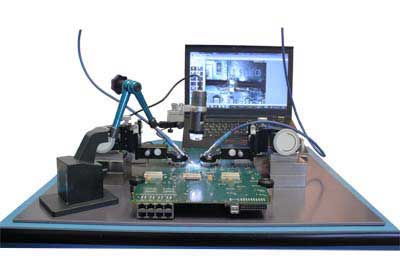 FP40-HDM1 holds microscope for probing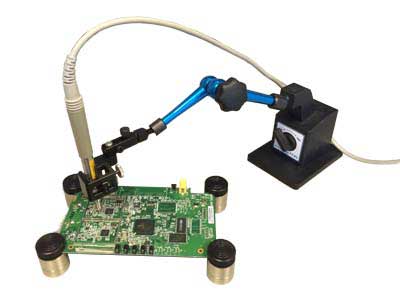 FP40 holds an RF probe