A Broad Range of Positioners to Match Tektronix Probes
PacketMicro offers a broad ranges of probe positioners to assure Tektronix equipment users to gain the best control of the probes onto the small geometries of fine-pitch interconnects, SMD packages, MCMs, hybrids and ICs.
Combining PacketMicro positioners, probes and accessories with your own Tek equipment and probes, you can create the most user-friendly probe station for your high-speed testing need.
Flexible FP160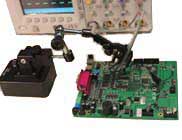 A 3D positioner with an articulated arm that supports quick positioning and fine XYZ adjustment.
Flex TP50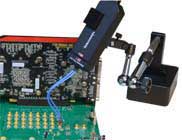 A low-cost positioner with a flex arm and choice of clamps to hold probes or digital microscopes.
Flex UH50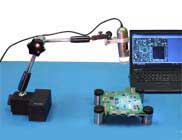 A sturdy and versatile holder with lockable magnetic base to hold solder-type probes and digital microscope.
Adapter Description
The following probe adapters can be ordered with TP50, FP160 positioners. For UH50, due to its stronger flex arm, we recommend customers to use UH16 to hold solder-type probes only.
UA12 Small Adapter opening: 2-12 mm
UA16 Regular Adapter opening: 4-16 mm
UA18 Wide Adapter opening: 7-18 mm
LA12 Long Adapter: Holds probes up to 9.5 mm wide
TA10 Special Adapter: To hold Tek P7500 probe
Positioner Adapter Compatibility Chart for Tek Users
PacketMicro offers several positioner adapters to hold various Tektronix probes.