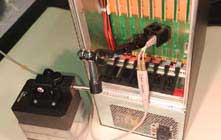 Challenge
High speed interconnect design needs accurate s parameters to tune equalizers in order to select the optimum settings. Vertical probing becomes necessary if two ends of the interconnect are located on opposite of the PCB.
Users needs to consider accessibility, repeatability, probing pad design before probing.
Backplane/Chassis Probing Tips
Use strong and stable vertical PCB holders with two microscopes on each sides.
The microscope mounting must be independent of the probing station so that the movement of the microscope arms will not shake the probing station.
Using Iwo microscopes is necessary because the contacts on both sides must be verified constantly to ensure the adequate probing pressure.
A durable probe is desirable. PCB may shift during the 2nd side probing while the probe on the other side touches the PCB pads. In addition, the probe pressure can be larger than horizontal probing because of visual difficulties. A durable probe is available on our web site.
Good Practices
Try to avoid vertical probing by taking measurements on the same side of the PCB. Use de-embedding to remove the unwanted fixture traces or connectors.
Another way to avoid vertical probing is to build a symmetric structure on your DUT so that you can probe on the same side of the PCB.
To perform vertical probing, try to setup the probe vertically with flexible probe holders.
Use durable, rigid microprobes with correct probe pitch.
Chassis/Backplane Probing Demonstrations
Chassis video (From time:2:30)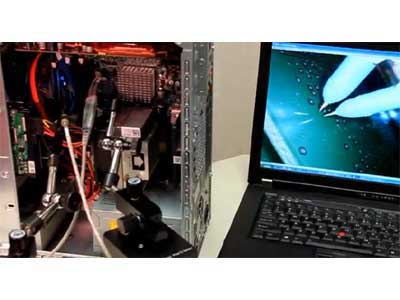 DDR probing in a chassis